The people behind our face masks
In order not to be dependent on factories on the other side of the world, we started the first Dutch face mask factory in March 2020 from the network of the Refugee Company. With the mission to reduce the distance between people with a refugee background and the labor market in the Netherlands. With guts, decisiveness and a good network, we managed to get eight production lines certified in a short time and to produce 45 million mouth masks for the LCH (Landelijk Consortium Hulpmiddelen). Johan Blom, John Vrieze and Fleur Bakker are part of the factory's management team.
"The trick is to do the right things well. Giving people with a refugee status a fair chance in Dutch society is one of those things, as well as producing face masks locally. It was with great pleasure that I contributed to the establishment of Mondmaskerfabriek."
Menno Bol, COO Bolton Adhesives
Social enterprise
Mondmaskerfabriek B.V. is a social enterprise, affiliated with the Refugee Company Foundation. Refugee Company's mission is to reduce the distance between people with a refugee background and the labor market in the Netherlands.
Work is the best way to integrate. Refugee Company raises funds to offer work-study programs to people with a refugee background. These programs last from six months to a maximum of three years and are carried out by our social enterprises A Beautiful Mess and Mondmaskerfabriek .
This way people can start rebuilding their lives again, earn money, gain experience and build a network. The programs also offer support in the areas of language, integration, personal development and well-being.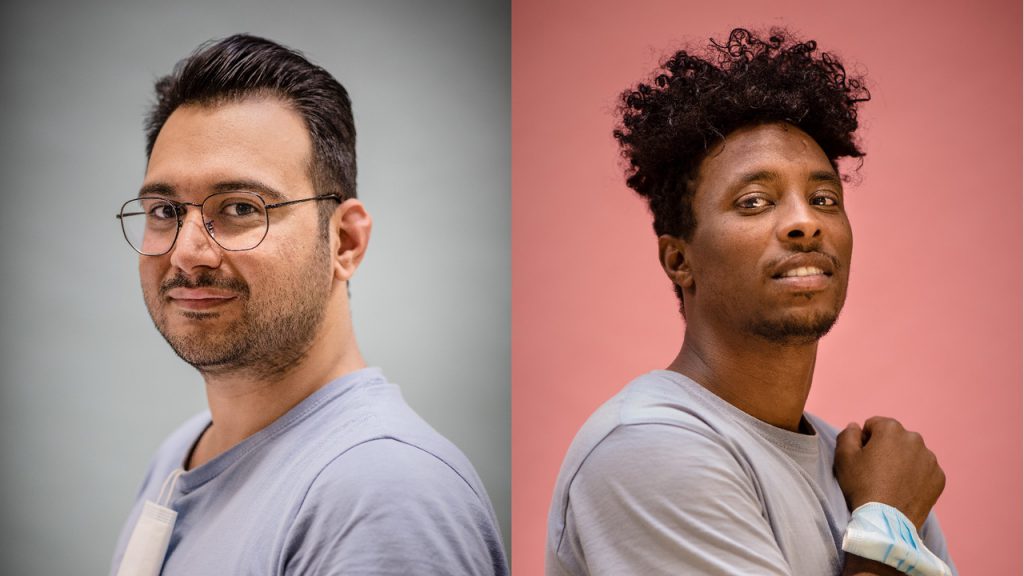 Support
We cannot do this adventure alone. Friends for Brands developed a visual identity and website. KLM has helped to get the machines and raw materials from China to the Netherlands. The Philips Foundation provided a loan to open the factory and linked us to Philips, who provided us with knowledge and suppliers of raw materials. Qredits provided a social credit. The municipality of Arnhem supports the apprenticeship program and the recruitment of employees for the factory. Rabobank Arnhem en Omstreken helped us with the pre-financing of the raw materials. We received the largest order from the Landelijk Consortium Hulpmiddelen (LCH). During the set-up of the factory, production started quickly thanks to close contact with involved employees of the ministries of VWS and EZK. Minister Tamara van Ark of Medical Care visited our factory as a thank you for the fact that we as entrepreneurs had stuck our necks out.
ANBI
Refugee Company is recognized as a Public Benefit Organization (ANBI), which means that all donations are tax deductible. Do you want to support Refugee Company? Check out the website for more information!
This is how Mondmaskerfabriek started